Church and Community Internship Program
Conservative Mennonite Conference
Note: Download pdf forms to interactively fill and email.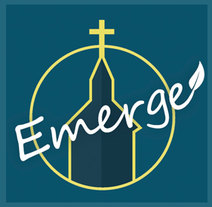 Introduction
Emerge is a one year, non-traditional, part-time (10 hours per week) CMC church and community internship program designed to equip men and women lay leaders for ministries in the local church and community. Emerge consists of weekend retreats, practical ministry, directed reading, and face-to-face
meetings with a mentor. The program will follow a college schedule, with one term in the fall and one in the spring. After successful completion of year one, interns may request an additional year or two, likely under a revised format.
Program Overview
Mentor Selection. At the beginning of the program and in consultation with the CMC office, each intern will choose a mentor. Mentors may be pastors, associate pastors, youth pastors, retired pastors, elders, church planters, missionaries, spouses of persons in this list, or have other relevant roles. Interns recruit mentors by giving them an Emerge Prospective Mentor letter. However, it is also appropriate for mentors to approach prospective interns and initiate conversation with them about working together in the Emerge program.
Internship Design. Emerge is designed to fit the unique needs of each intern by helping the intern assess strengths and weaknesses. A custom-designed program of directed study in spiritual formation, character development, personal management, spiritual gifts, and practical ministry will enable the intern to maximize their kingdom potential. During the retreat, the intern and mentor will complete an Emerge Learning Covenant. The Emerge Timeline gives an overview of the entire program.
Retreats. To facilitate connectedness among interns, a fall and winter retreat will be conducted each year, with attendance at both required of interns. Retreats will include classroom study, testimonials, entertainment, structured activities, and informal fellowship. Retreats will begin on Friday morning and conclude Sunday early afternoon. The fall retreat will be held at Rosedale Bible College and the winter retreat at Rosedale International Center, both in central Ohio. Mentors are required to attend the fall retreat to receive specialized mentor training and also for purposes of relationship building with their intern. Mentors are welcome, but not required, to attend the winter retreat. We encourage interns to keep in touch with each other outside the retreats.
Practical Ministry. (4 hours per week) Practical ministry could include assignments within the church such as pastor training, small group leadership, worship leading, Christian education, youth ministry, evangelism, and discipleship. Assignments may also include involvement in the community such as pregnancy care centers, public and private schools, immigration centers, and anti-human trafficking centers. The practical ministry component is normally under the supervision of the mentor, but ministry assignments in the community or otherwise outside the mentor's expertise may require supervision by others.
Directed Reading. (5 hours per week) Interns will write responses to assigned readings. These completed reading responses will be shared with the mentor and will help guide the bi-weekly meetings. Interns may request a formal independent study under the classroom instructor or an online instructor, which will be handled separately and likely incur additional costs.
Mentor Meetings. (1.5 hours bi-weekly) Mentors should be available to meet with their intern for 90-minute sessions every other week at a mutually agreed upon schedule. Meetings will consist of follow-up on directed readings, spiritual formation, character development, personal management, spiritual gifts, and practical ministry (see Emerge Schedule of Suggested Assignments). An Emerge Mentoring Handbook will help guide the mentoring relationship and an Emerge Mentoring Resources booklet lists recommended books, articles, videos, and podcasts for the bi-weekly assignments.
Application Process
Applicants will complete an application.
Applicants will provide three reference letters: pastor/elder, teacher/employer, and friend.
Applicants will write a one-page ministry assignment proposal.
The application deadline is one month prior to the start of the fall retreat.
Schedule
The fall retreat is scheduled for August 24-26, 2018 at Rosedale Bible College. The winter retreat will be held on February 1-3, 2019 at Rosedale International Center.
Program Fee

Program fee is $100 per year per team of two—one mentor and one intern. Costs are kept low because of three factors:
Everence Financial is covering all retreat expenses including lodging, food, meeting space, and speakers.
Mentors are donating their time.
Conservative Mennonite Conference is donating staff time to design and publicize the program, process applications, assist with mentor recruitment and orientation, coordinate the retreats, and orient/supervise the mentors.
---
List of links to documents listed in the above article:

Emerge Prospective Mentor Letter
Emerge Schedule of Suggested Assignments